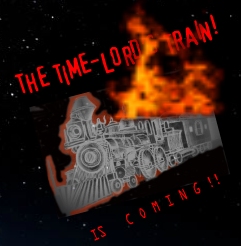 The Time-Lord's train tells of three sceptical teenagers aboard an old Western style train with shrill whistle, chugging iron wheels and belching clouds of white smoke that trail behind like a string of cotton buds. The single, huge lantern above the sloped 'cowcatcher' at the front illuminates the railroad track ahead, if there was a track ahead. The difference with this train is that it doesn't travel on tracks. Nor does it have a driver in the cab. It gives Sorcha, Longwei and Joshua cause at times to wish that they had never left the platform at Connolly railway station in Dublin.
The three teenagers discover what really happened in biblical times in the war between good versus evil as our gallant group penetrate the mists of time and transcend the earthly realm. They quickly learn that each carriage in the extra-terrestrial train is a portal not just into past or future eternity but to other spiritual realms. A series of adventures ensue that put a different perspective on what they had been taught at school and reveals attitudes and fears hidden deep in the psyche of our travellers. Bad enough that they battle demons and giant Philistine warriors but when they look into the carriage portal of future eternity they discover, the track is short and ends suddenly!"
Author.
Harry Toye is happily married to Maureen, and they live near one of Ireland's most beautiful beaches. He is an entrepreneur with 40 years experience in Business Development and is Event Director of Five Fold Ministry Ireland Ltd, one of the foremost Christian Healing ministries in the world. His most rewarding activity is as a member of this small but greatly blessed front-line outreach team that come not with empty words but in the power and anointing of Our Living God Jesus Christ.